New Releases
Our new release, Heaven-Bound but Going Nowhere: Believer's Guidebook to Freedom, Fruitfulness, and Fulfillment, takes the reader on an exciting journey of transformation. Written in an entertaining and engaging style, it explains why so many Christians fall so far short of their in-Christ potential, and what they can do about it.
Whether the reader is a disillusioned longtime church-attender or a new believer wondering, "What's next?" a message of grounded hope and solid direction awaits. Heaven-Bound offers believers a life-changing practical guide to renewing the mind, the critical process in spiritual growth and discipleship.
The author's personal stories resonate with the heart, while the book's friendly travel guide format and helpful illustrations make it a pleasure for navigation and repeated reference.
Format: 6″ x 9″ paperback, 198 Pages.
Just Published! Heaven-Bound but Going Nowhere Group Leader's Guide
Using the Heaven-Bound but Going Nowhere Leader's Guide, small group leaders, counselors, and mentors will find everything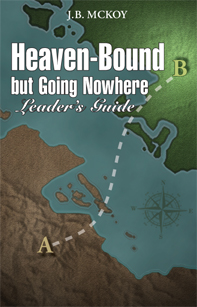 they need to equip Christians with the life-changing truths of the corresponding book, Heaven-Bound but Going Nowhere: Believer's Guidebook to Freedom, Fruitfulness, and Fulfillment. There are no shortcuts to maturity. A believer's spiritual growth hinges on learning to renew his or her mind to what God says is true. This thorough 12-week plan takes readers on a journey of transformation–from the manifold conflicts of self-centered living, to the peace and joy of life in the kingdom.
Format: 5 1/2″ x 8 1/2″ paperback, 124 Pages.
Note: The Leader's Guide does not contain the text of the book. A group leader should order both the book and the Leader's Guide, as well as books for each group member.
Leader's Guide Back Cover Text:

Be a Modern-day Joshua
Moses delivered God's people from the slavery of Egypt. He served as a type of Christ, the Savior who was to come. But just as the children of Israel got stuck in the wilderness because of their unbelief, sincere Christians often languish in mediocre lives that fall far short of their Father's good plan. God raised up Joshua to courageously lead His people into a much better place. This leader's guide and its companion book, Heaven-Bound but Going Nowhere, can help you lead some of God's people into kingdom living, out of their wilderness existence and into the Promised Land!
Be Equipped for the Task
Even if you are reading Heaven-Bound for the first time along with your group, even if you have never led a group before, this guide provides everything you need. It goes beyond what you would expect to find in a book study leader's guide, with practical tips on facilitating a small group, based on the author's years of successful experience. A well-conceived meeting structure and twelve detailed weekly plans pave the way for a life-changing study, while minimizing the time investment required of the leader. Each lesson includes thoughtful questions to spur both discussion and application of the material.
Step up, step out.
People want to go somewhere with God, but they must learn how to renew their minds to begin enjoying the fruit of the kingdom. The Heaven-Bound but Going
Nowhere book study provides the necessary equipment to launch you and your fellow travelers on an exciting journey to transformation.